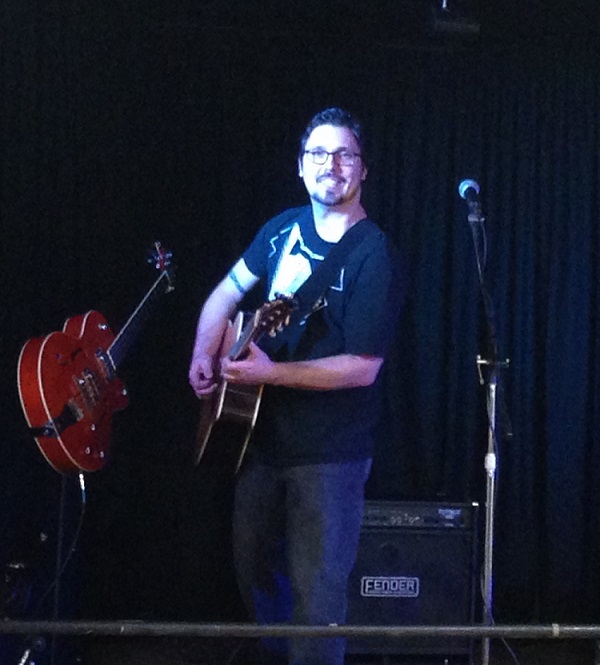 This week, we had the pleasure of interviewing Royer Trainer & Lean Captain, Mike Cardwell. Mike is an instrumental part of the Royer team. His versatility and expertise in a variety of areas is critical to our day-to-day operations.
Mike is also our dedicated singer of "Happy Birthday" over the intercom! The tune is performed on all Royer employee birthdays and is becoming a company tradition!
We're able to continue manufacturing the world's best custom swizzle sticks, drink stirrers & cocktail picks because of employees like Mike that are passionate about their work and Royer's legacy of excellence.
We encourage you to take a few minutes to get to know Mike, a valued member of Royer's "Swizzle Stick Squad!"

Q: Mike, how long have you been a part of the Royer team?
Mike: I began working at Royer Corporation as

a tech in July of 2001. I left the company for about 2 years, but then returned and have been with Royer ever since. During my time here, I have worked and learned throughout every department. (I tease and say I've been moved around because I can't get along with anyone) The only thing I haven't done here is sales – but I firmly believe I could sell something!
Q:
Tell us a bit about your position as Trainer/Lean Captain and explain some of your responsibilities.
Mike: I take my position as Trainer/Lean Captain very seriously. Throughout my time here at Royer, I have always seen the need for training, but it was a bit of a struggle to get it done. Now I am in a position where I can try to make a difference by both educating new hires so that their failure rate is lessened and also provide our existing employees with knowledge that they are lacking.
As Lean Captain, I strive to implement the ideas of our collective team and propel us forward. I have always had a personal goal to make just one person's job easier each day, so I kind of fit the position already. I like to use the term "economy of motion." There seems to always be an easier way, and I feel my job is to help execute these ideas once our team finds them.
Q: Please talk a little bit about Royer's "Lean" initiative. How will becoming "Lean" benefit the company?
Mike: Lean as a way of running a business can be interpreted many ways. Anything that saves the company time, money, or better yet, saves the operator time and makes the job easier can be considered as part of our Lean initiative. Royer has grown so much in the past few years that opportunities for Lean improvements present themselves daily. It is amazing to see Lean ideas implemented and to measure the results of successes. I am glad to be a part of the initiative.
Q: What do you enjoy most about your position?
Mike: I think the fact that I know what I am

doing is making a difference in the quality of employment here at Royer is very satisfying.
Q: What has been your most memorable moment during your employment at Royer?
Mike: I do not remember the exact year but it was over the Christmas holiday and I was 1st Shift Supervisor. I had scheduled some overtime on Christmas Eve due to the fact that the job was a must-ship. I came down that morning to set up the bagger to help the operators get started because we were pressed for time – then my operators did not show up for work! So I proceeded to run the bagger myself. At about 9:30 am, Mark Vaughn, who was the 2nd Shift Supervisor, lived in the area and came by to check on the run. When he realized it was just me there, he rolled up his sleeves and jumped in to help me. We bagged the entire day until his shift began, at which time his operators showed up. We finished the order that day and I realized how important teamwork was then and how important it is every day. I am glad to be a part of Team Royer.
Q: Tell us a fun fact about yourself that your colleagues at Royer may not know!
Mike: I have been an avid online gamer since 2000 and am currently ranked in the top 10 worldwide in Player vs. Player combat. I am not nearly as nice in the virtual world, haha!
Q: Tell us what it is like to be a Pittsburgh Steelers fan here at Royer. Do you ever find it difficult to get along with your Bengals and Colts fan colleagues during football season?
Mike: Every corporation needs a sports fan that's a true winner. I'm that guy… hehe, seriously, it's all good fun here at Royer. I've been a Steelers fan for almost 40 years. No chance of me changing my views any time soon!
Q: If you could travel anywhere in the world for vacation, where would it be and why?
Mike: I would like to go somewhere tropical but off the beaten path. I want to enjoy the warmth and sandy beach but not the usual tourist attractions. Just peace and quiet… and sand… and ocean!
Q: What is your favorite music genre? Favorite artists? Favorite songs?
Mike: I find myself listening to everything. I grew up with the whole 80's Metal music thing going on, but probably my favorite vocalist is Edwin McCain. He is a super nice guy and a great voice. I don't really have a favorite song but I listen to all genres.
Q: What are some of your hobbies outside of work?
Mike: Music is my main hobby. I have dabbled in RC cars and such. I hope to one day buy another old 1968 Mercury Cougar to restore!
Q: If you could purchase a Royer product for your own personal use, what would it be and why?
Mike: Zing Zang stirrers to stab the lil' olives for my Bloody Mary!
{{cta('bcf67134-3b03-4028-b5b0-d3711bcd7337')}}