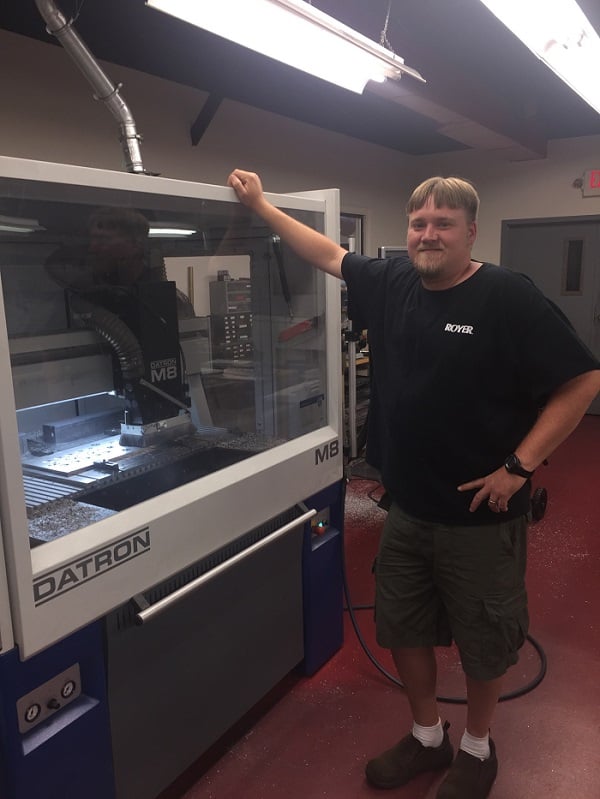 Today we were glad to have a chance to visit with our brilliant Director of Engineering, Justin Murray. Justin has been a part of the Royer team for nearly 6 years. He is an integral part of our company, as he is the man behind the molds! Justin is one of the most easy going, friendly, hard-working guys you will ever meet.
We're able to continue manufacturing the industry's best custom swizzle sticks, drink stirrers & cocktail picks because of employees like Justin that are passionate about their work and Royer's legacy of excellence.
We invite you to take some time to get to know Justin, a valued member of Royer's "Swizzle Stick Squad!"

Q: Justin, please tell us a little about your position as our Director of Engineering. What is your favorite type of project to work on?
Justin: I do my best to make sure molds are created, all the way from the designing stage, to programming for our CNC's, to a polished mold ready for production. I have a great team that works for me that helps in every way to get these things done! My favorite projects are custom stirrers. They are always the most challenging, but the finished products are little works of art!
Q: What does a typical day at work consist of for you, or is there such a thing?
Justin: This is a hard question. Some mornings I may have a list of things to do, and at the end of the day I'll have a new list of things I ended up doing instead.

Q: What do you consider the most challenging part of your job?
Justin: I think in my job, the most challenging part is multitasking! You never know what may come up at any second.
Q: Explain how CAD-CAM software helps you from an engineering standpoint.
Justin: Our CAD-CAM software makes it possible to take a 2 dimensional drawing to a computer designed, 3 dimensional image. We're then able to use this to make tool paths to cut our molds! Very cool stuff if you ask me!
Q: How long have you been a part of the Royer team?
Justin: It will be 6 years in October. It seems like just yesterday when I started here. Time flies when you are having fun!

Q: What is the coolest place you've been for a vacation?
Justin: As a kid I was lucky enough to
have parents that dragged me all over the United States and some parts of Canada! My favorite was probably Yellowstone. Hopefully I can revisit one day with my wife and kids!
Q: What is your favorite music genre? Favorite artists? Favorite songs?
Justin: I love all kinds of music! As far as artists go, I like stuff like Beck, all the way to Black Sabbath, The White Stripes, and even some classic Willie Nelson! A couple of my favorite songs are "Time" by Pink Floyd and "Change" by Blind Melon.
Q: What do you like to do in your free time? What are some of your hobbies and interests?
Justin: I love spending time with my family! My

favorite activities usually involve spending time outdoors with them. I love camping, hiking, riding four wheelers and fishing. Also, working on things is sort of a hobby of mine. To take something that's broken, figure out how it works and fix it, is something I really enjoy!
Q: What is your favorite movie of all time and why?
Justin: Man, that's a hard question. I own
hundreds of movies. I love movies like I love music. It would probably be "Stand By Me." I always liked it because it was based on a Stephen King short story.
Q: If you could purchase a Royer product for your own personal use, what would it be and why?
Justin: I like the Maker's Mark stirrers, the Southern Comfort swizzle sticks, and any of the Three Dots & a Dash stir sticks!
{{cta('bcf67134-3b03-4028-b5b0-d3711bcd7337')}}