If you fly regularly, you've likely been served a drink while on board. There's nothing better at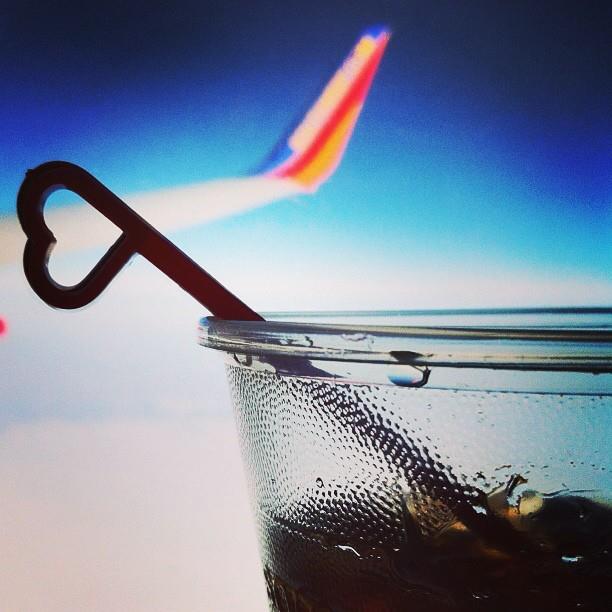 30,000 feet than a cold cocktail or a steaming cup of coffee.
The airline business is one of the most competitive out there. Marketing efforts with the goal of differentiating one airline from the next are constantly being analyzed.

All airline companies need to first focus on safety, customer service, amenities and other high level company attributes. Mobile apps and costs for bag checking are two areas that have required a great deal of attention in recent years. Decisions made in areas like these impact the way consumers make their travel decisions.
When talking perceived value, every touch point counts. From marketing messages and free WIFI, to the stir sticks served in passengers' drinks, it all makes a difference.
Southwest's heart-shaped swizzle stick is an icon of their brand and has become a distinct and well known product that creates a fun and memorable culture for passengers. The heart shape is a constant reminder of Southwest's "LUV" initiative. To read more about the unique story behind "LUV," check out this description from the Southwest website.
The heart swizzle stick is obviously used in cocktails and other drinks served on board. It's also one of the tools used by flight attendants to create the famous "birthday crown" and other unique and creative decorations. Even after serving it's purpose at 30,000 feet, the stirrer continues marketing long after planes are landed. Passengers are known to hold on to their stir stick and keep it as a souvenir.
Some may think the heart shaped drink stirrer is a rather insignificant item for the brand as a whole, but as someone that has flown on Southwest's flights with regularity, I've seen first hand the reaction of passengers when they receive their drinks. The stir stick improves perceived value and is an extension of the company culture which is filled with "LUV!" It is clear that Southwest Airlines is concerned about more than their bottom line. They want their customers to enjoy traveling, not consider it a burden. The "little things" are never overlooked and that is appreciated by travelers.
Have you been served a custom drink stirrer by Southwest or any other airline? Tell us about it! If you're interested in other ways that custom stir sticks boost perceived value, check out this blog post! http://blog.royercorp.com/drink-stirrers-swizzle-sticks-boost-perceived-value-of-your-drinks
Cheers!
Photo Courtesy: Southwest Airlines Facebook Page: https://www.facebook.com/Southwest
{{cta('66fcb7c6-cf71-4d60-91ff-6d12a3859153′)}}