It's a given that bars, restaurants & hotels feature cocktails & mixed drinks on their menus.
The most profitable businesses typically do a great job of convincing guests that they are getting a great return on the money being spent at their establishments. Even businesses that charge quite a premium for cocktails can maintain success by focusing on the concept of perceived value.
So, what marketing strategies do the most successful bars, restaurants & hotels pursue to boost the perceived value of their pricey cocktails & mixed drinks?
1. Emphasize making the establishment look clean & inviting to those passing by outside.
As patrons walk by or approach an establishment, it should look like a fun, entertaining & safe place to stop & grab a drink or two. Guests take notice when curb appeal is polished & welcoming.
Here's a great article on Restaurant Exterior Design that has many helpful tips!
2. Exemplary Guest Service
Patrons should be greeted immediately after walking inside. Hiring and training
employees with character & charisma is vital to creating an inviting atmosphere at all times of the day.
Building rapport with guests is vital for selling drinks. The more patrons feel welcomed and taken care of – the more likely it is that they will stick around, enjoy themselves & spend money.
3. Make the interior so nice, guests won't want to leave.
From the moment patrons walk through your doors, welcome them with thoughtful lighting & decorations. Depending on where your establishment is located, emphasize a consistent theme that is appreciated by your target market.
Check out this post that covers designing restaurants & bars that enhance the customer experience!
4. Presentation
Presentation is critical when it comes to mixing tasty (and sometimes costly)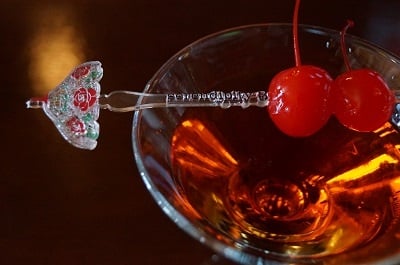 drinks. Always be sure your cocktails are made exactly as advertised, every time. If you're confident that your drinks are great, be sure they're made right on a consistent basis.
Proper glassware is also critical to boosting perceived value. Here's a great article from Serious Eats that outlines the basics.
In addition, many of the world's top bars, restaurants & hotels choose to utilize custom cocktail stirrers & picks to add a touch of branding to each drink
served. These molded & decorated garnishing tools are not only attractive – they also add a valuable logo touchpoint. Many establishments use these products to secure cherries, olives & other fruits or vegetables within drinks.
If you're curious as to what a custom stirrer or pick would look like for your establishment, follow this link for a complementary design artwork & consultation.
So, how does this relate to perceived value and selling more cocktails? Each of the ideas discussed above will work together to create the thought that the customer is getting more than they actually are. Each patron that walks into your bar, restaurant or hotel is paying you for a great experience. So, as long as you knock it out of the park, people won't mind spending extra cash to visit your place over competitors that choose to cut corners!
{{cta('bcf67134-3b03-4028-b5b0-d3711bcd7337')}}
---