Royer Corporation's company offices and factory are located in Madison, Indiana. Madison is located on the banks of the Ohio River in the southeastern corner of the state. A historic town of roughly 12,500 people, it was founded in 1809 and was one of Indiana's earliest settlements. Today, Madison's designation as a National Historic District recognizes her unique heritage and architecture.

Over 55,000 people live within 15 miles of downtown, and Madison is the largest city on the Ohio River between Cincinnati, Ohio & Louisville, Kentucky.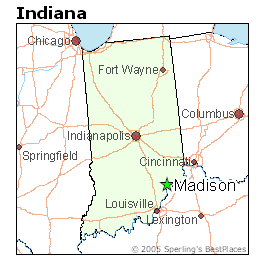 Originally a river port, Madison soon became known for its fine manufactured goods, particularly its iron works. Much of the beautiful wrought iron gracing New Orleans' French Quarter was fashioned by Madison artisans and shipped by river boat to that city. Ironically, much of Madison's own wrought iron was donated by her people for military use during the First World War.
Geographically situated in the center of the United States, Madison's location serves our customers well today. But even more important than her location is her tradition of beauty and craftsmanship. This tradition continues today.
Royer looks forward to a bright future in Madison. We take great pride in manufacturing USA made swizzle sticks, cocktail picks & other custom products that add value for our customers.
{{cta('42481697-67bf-4c48-ae5d-f85943227809')}}