The staff at Royer is excited to have the opportunity to sponsor this coming Saturday's "Makahiki: A Night of Tiki" event in Indianapolis. We will be providing a limited edition, custom Makahiki swizzle stick to stir up the fun!
The event begins at 6:00 & tickets are only $8.00 at the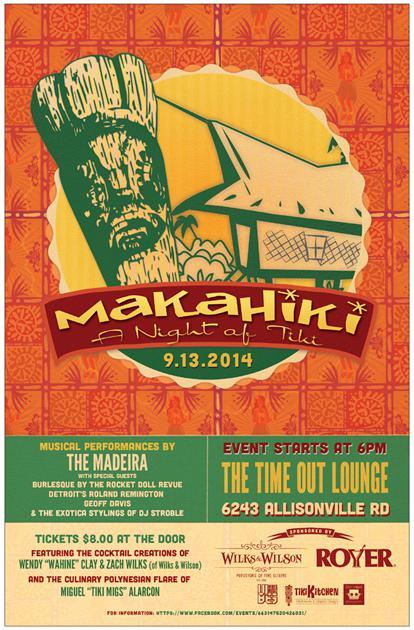 door. If you have plans to be anywhere near the Indianapolis area this weekend, attending Makahiki should be high on your priority list.
Here are the exciting event details provided by the organizers:
Join us for a night of tiki at the Time Out Lounge Indianapolis!
We will have Indy's local surf band, The Madeira! All the way from Detroit we will have the exotic sounds of Roland Remington! Local, Geoff Davis, will be on the ukulele. We will also have burlesque by The Rocket Doll Revue. Miguel will be cooking up some pork sandwiches. Wendy Wahine and Zach Wilks (of Wilks & Wilson) will be behind the bar serving up craft tiki cocktails. DJ Stroble will be spinning some tunes.
So put on your best Hawaiian wear and come down for a night of fun!
For up to the minute event information, be sure to check out the Makahiki event page on Facebook! If you're lucky enough to attend & receive a swizzle stick in your cocktail, please feel free to snap photos and share them on Royer's Facebook and Twitter pages!
{{cta('66fcb7c6-cf71-4d60-91ff-6d12a3859153′)}}