Red Robin's tasty "Berserker X Burger" is back & Royer-made
custom,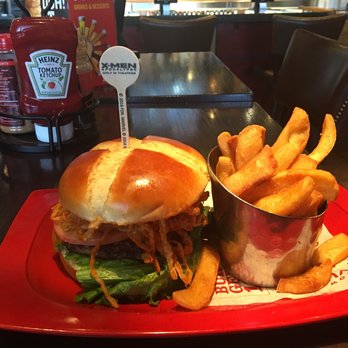 The Berserker X Burger has returned to Red Robin's menu just in time for "X-Men: Apocalypse," which hits theaters on May 27. Here's a description of the tasty burger's ingredients from the Red Robin website:
"Loaded with Sriracha onion straws, spicy pickles, zesty aioli, a fire-grilled, all-natural beef patty, lettuce, tomatoes and melted cheddar on a special "X" edition brioche bun."
This fun and attractive
burger pick
is a prime example of the
promotional value
of our custom products. Whether promoting an upcoming movie or event, or simply featuring a logo or slogan, custom garnish picks add priceless
brand recognition
to each presentation.
Check out Red Robin's new Berserker X Burger TV commercial below & be on the lookout for a closeup of the branded pick!