Your name is how your customers identify you. It's the simplest and most effective form of advertising you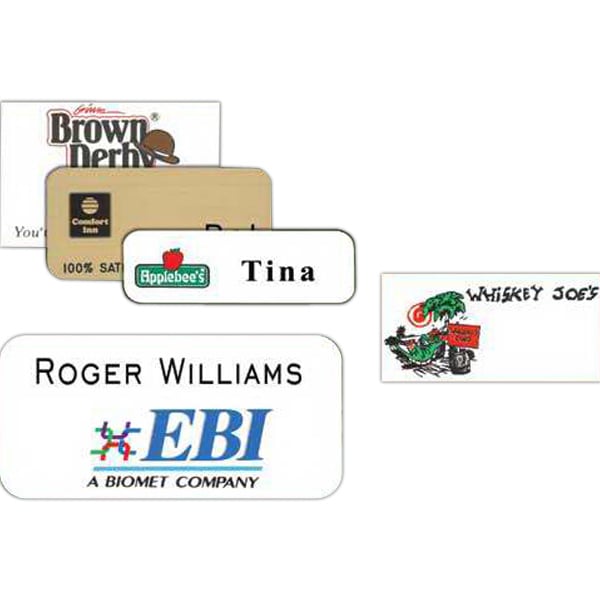 have. Why not make it work harder for you?
Here are 3 key reasons why you should consider name badges for your bar, restaurant or other business.
1. Broaden and maximize your brand's reach.
Name badges and name tags play a part in widening the reach of your brand's name.When you have a custom badge made, you'll obviously want to include your company logo. Each time employees clip on their name tag, you get valuable brand recognition. Affordable marketing touch points are hard to come by! Name badges are beneficial for a variety of environments like:
In and around your company, bar or restaurant during work hours

At promotional events like trade shows, seminars and all public showings that your business participates in




Corporate outings
2. Name badges provide easy name identification for other employees and customers.
Addressing employees, especially in large companies, can be a bit overwhelming when you can't remember
names. Make it easy on current and new employees that join your team. Name tags help to eliminate the awkward moments that we've all encountered when our brains freeze and names can't be recalled.
For businesses that deal with the public on a regular basis, name badges are a no brainer. If you're at a bar or restaurant, name tags play a huge part in allowing customers to recall their server. Your logo and a name can go a long way in laying the foundation for repeat business. They also play a part in ensuring accountability for your employees. Name badges will aid the ability of your customers to identify who is doing a great job and who is falling short.
For other companies, like car dealerships for example, interaction with customers may be very brief. Even if your employees miss the chance to hand out a business card, a clear and professional name badge will add another touch point that will be recognized.
3. Easily identify who belongs.
In larger businesses that may have a hard time keeping track of who belongs in certain areas, name badges are a great tool to ensure security on your property. Many companies customize name badges with differing colors and criteria to ensure that their employees remain in the areas assigned to them. Requiring that name badges are worn at all times is an easy and cost-effective way to maintain a secure work environment.
If you're considering name badges for your business, please keep in mind these basic benefits.
Reinforce your public image
Convey the professionalism and friendly spirit of your service
Improve employee relations
Advertise your name, product or service
Aid security by distinguishing authorized from unauthorized personnel
If you're a business owner, why not take every step necessary to make your name work harder for you? If you deal with the public, name badges are a necessity, not a luxury.