18″ Butterfly themed floral card holder picks from Royer Corporation provide a beautiful finishing touch to
all arrangements that they accompany.
Not only does this floral pick add visual appeal, it also is guaranteed to securely hold cards. Our picks have been designed to withstand intense movement and moisture. They will firmly grip cards through it all! This is extremely important when delivering several arrangements at the same time. If cards end up falling out, you could be left with a big problem! Trying to remember which card goes with any given arrangement can be quite a daunting task – and getting it wrong can certainly take away from the experience for both the flower giver and receiver.
Our 18″ Butterfly themed floral pick is ideal for large arrangements, but its length can be easily adjusted by simply snapping the base to fit your specific needs. The butterfly, as with our entire line of 18″ floral card holder picks, has been extremely popular for use within sympathy floral arrangements and funeral flowers. When stacked up with plain, pronged card holders, it is clear which pick adds more value for the recipient.
To view our 18″ Butterfly themed floral card holder pick in our online store, please click here. To view our entire collection of themed 18″ floral picks,please click here.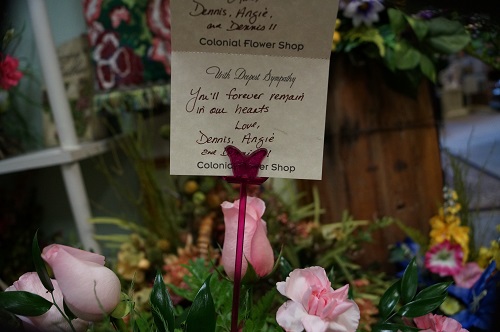 {{cta('b365022c-5a25-4adf-adf9-f9fdf65b67e9')}}