The heat is scorching and it's officially summertime. There's no better time of year to check out the exciting food and beverage trends around the country. After all, is there a better way to make your summer memorable than eating awesome food and sipping spectacular drinks?
Let's take a look at some of the food and beverage trends happening in Summer 2018:
When it comes to being creative in the food business, one thing that chefs like to do is put flavors together that might seem a little far fetched to some! A restaurant in Charleston, South Carolina called Glazed is taking the traditional glazed donut and pairing it with nontraditional local ingredients. Their menu includes Sweet Corn and Blueberry donuts, filled with sweet corn custard, & Strawberry and Champagne donuts, filled with champagne-infused strawberry filling. They also have other unique flavors including green tea, blueberry, sesame and bourbon cream filling.
Another favorite infusion that is popping up all of the time on social media is rolled-up ice cream. This was originally started in Thailand and has slowly made its way to the United States. The below video will show an example of rolled ice cream infused with cookies!
In Orange County, California, Sweet Cup, has taken this trend to the next level by coming up with flavors like Matcha Bliss, Honey Avocado and Rainbow Toad. They also offer more common options that are sure to impress! Doesn't the photo below look AMAZING?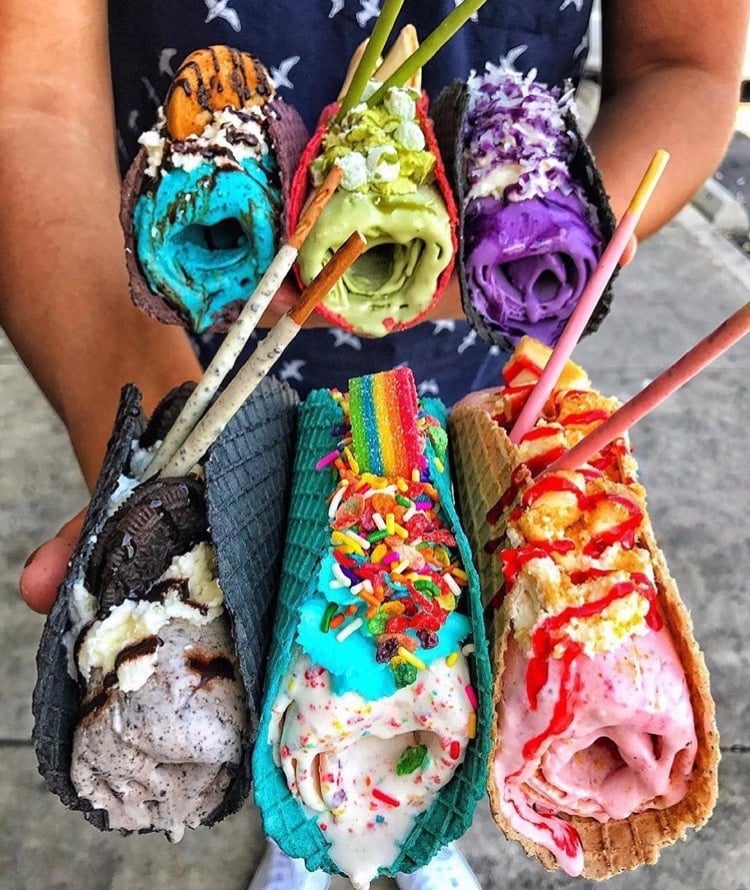 Through the years, many people have made an effort to replace regular sugar with alternative sweeteners. As the shift away from cane sugar continues, the popularity of alternative sweeteners such as agave, honey, cinnamon, maple syrup and apple sauce has increased. More and more people want the sweetness in their baked goods and other food & beverage items to come from as many natural sources as possible. While the taste may change just a tad in some instances when you make the switch, it's usually just as yummy!
International Condiments & Street Food
Street food has surged in popularity in recent years and is becoming a big trend. It is simple, usually pretty cheap and the food is packed with flavor. Sriracha has recently been a big hit in the United States and this summer, other international condiments are going to take center stage—most specifically, Korean sauce! More and more establishments are offering dishes that showcase Korean sauces, like Korean BBQ Wings. Some examples of Korean hot sauces that you should keep your eyes out for are Korean Gochujang, meju (a fermented soybean powder), glutinous rice and yeotgireum (barley malt powder).
You will be seeing everything from tacos, dumplings, pupusas, kabobs, and tempura being cooked up in the street all over the country. Each street vendor will have their own specific flare with local ingredients that will be sure to peak your interest. Baby Wale, for example, is a street vendor in Washington DC that offers customers a small taste of El Salvador. Their version of a pupusa, made with zucchini and mozzarella, is a small glimpse into what food from this region is all about. If you want an awesome taste of Thai food, Nong's Khao Man Gai in Portland would be the place to go. Their popular meal known as Khao Man Gai, a rice and chicken dish made with a variety of herbs and sauces, fresh cilantro and cucumbers, is a show stopper. International street vendors give you a chance to experience another culture (that you can't find in most chain restaurants).
Going along with natural sweeteners and unique infusions, popular craft soft drinks pull from both trends. Incorporating unique flavors like juniper, lavender and hibiscus takes soft drinks to a new level and doesn't just taste like liquid sugar! The concept has already been a success with the multi-billion dollar U.S. soft drink market—which is partially due to the shift that customers are making away from artificial flavoring and the over-consumption of sugar.
Unique soft drinks are also becoming extremely popular for use as mixers in cocktails. Many brands choose to promote their beverages in various mixed drink recipes, which is a great way to increase awareness and overall sales for the product.
When someone thinks of a keg, BEER is typically the first thing that comes to mind. This summer, however, that is set to change. Wine is going to be offered on tap in many establishments which is able to be done with something called a Plum machine. This machine is the size of a large espresso machine, but instead of making a warm cup of java, it preserves open bottles of wine for weeks and keeps it at perfect serving temperature. This could peak the interest of wine consumers and bars/restaurants/hotels because of its ability to keep wine fresh and readily available.
What trends do you see taking off in the summer of 2018? We're excited to hear what you think. Cheers!
{{cta('bcf67134-3b03-4028-b5b0-d3711bcd7337')}}