If you're in the market for custom swizzle sticks, cocktail picks or beverage stirrers, we're here to make the process as simple as possible for you. Surfing the web for customized stirrers & picks will yield many search results, but there is only one manufacturer in the United States that is a proven industry expert.
When doing business with Royer Corporation, the process is simple. You'll be communicating directly to the manufacturer, which streamlines all processes.
Since Royer was founded in 1977, the custom design process has been perfected. After nearly 40 years,
we've certainly mastered the science of custom swizzle sticks – without losing the art.
To illustrate our storied legacy, pictured to the right is a Royer swizzle stick ad from the early 1980's.
Below are Royer's 3 simple steps for creating an iconic, custom designed cocktail stirrer or pick.
1. Your Logo
Provide us with your logo. In most (but not all) cases, this will be the theme of your swizzle stick or cocktail pick.
For best results, please provide your logo in "EPS", "Vector File", or "PDF" format. If you only have your logo in JPG or PNG format, our team will work with you on a solution.
2. Our Design Studio
After speaking about the specifics of your design with our experienced sales team, Royer's world-class artists will create a full scale layout of your custom stirrer or pick.
Our design artworks are free of charge & there is no obligation to purchase. You simply will not find this kind of service anywhere else in the world.
We will work with you on achieving the ideal color, shape, size & design.
Whether you choose a molded only, hot foil stamped, or digitally printed swizzle stick or cocktail pick, you are in good hands with Royer.
Below is a custom design artwork example.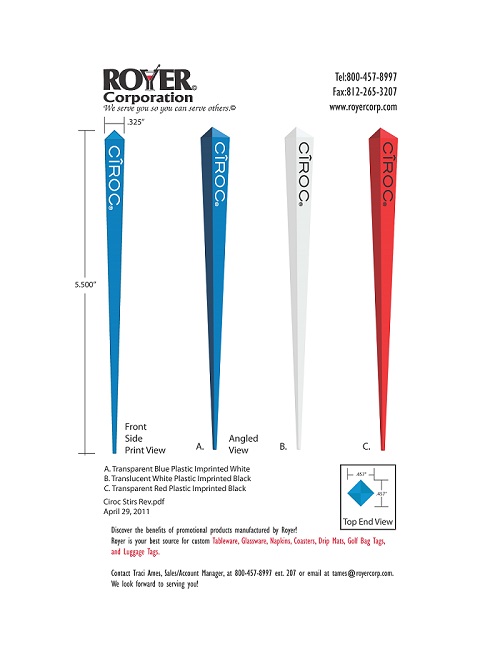 3. Your Approval
Our job is not finished until we gain your full approval.
Once approved, we will construct a mold in our own machine shop & begin the manufacturing process, all in-house. From start-to-finish, our products are Made in America.
If you choose not to purchase, it's yours to keep – free.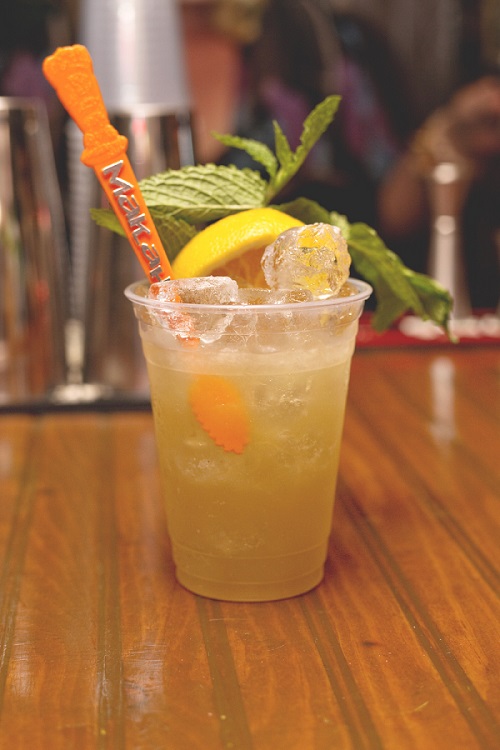 So, now you may be wondering how to get started. Here is how you can contact the Royer team:
Call us toll free at 800-457-8997. Ask for our Sales Manager, Traci Ames, or our Executive VP of Sales, Pat Berry. Our office hours are Monday-Friday, 8:00 am EST – 5:00 pm EST.
Email us at royerinfo@royercorp.com. Our Sales Team will respond within 2 business days.
Click the button at the bottom of this page for a free custom stirrer artwork and consultation. This will lead you to a landing page on our website where you can fill out a form. This will be received by our Sales Team.
Send us a message or tweet us on social media!. Royer is always connected to its social media pages. Drop us a line and we will be more than happy to assist you.
We also encourage you to check out the links below for additional information on the benefits of using custom stirrers and picks. Their branding & promotional value is unmatched.
"Custom Cocktail Picks, Food Picks, Sandwich Picks | Product Spotlight" – /custom-cocktail-picks-food-picks-sandwich-picks-product-spotlight
"4 Ways Custom Swizzle Sticks Stir Up Business At Bars & Restaurants" – /4-ways-custom-swizzle-sticks-stir-up-business-at-bars-restaurants
"Can a Swizzle Stick Become a Branding Icon For Your Bar or Restaurant" – /can-a-swizzle-stick-become-a-branding-icon-for-your-bar-or-restaurant
"Custom Swizzle Sticks, The Best Kept Secret In The Bar Business" – /the-best-kept-secret-in-the-bar-business
{{cta('66fcb7c6-cf71-4d60-91ff-6d12a3859153′)}}