If you're looking to take advantage of social media's ability to increase visibility for your restaurant business, becoming an active Twitter user should definitely be a part of your strategy. For many who don't use a personal Twitter account, getting up and running & understanding how to use the platform is sometimes a bit confusing. Below, we've listed several tips that should help you begin tweeting like a pro!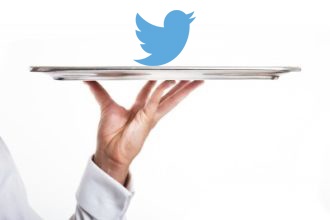 1. Write A Great Bio
Be sure to take the time to fill out your Bio section in full. Include a link to your website and/or other social media pages you may have. You'll also want to add some basic info about your food, drinks & your brand in general. This will ensure people have an idea of who you are and what you serve when they land on your profile. Here's a link to an article that goes into detail on perfecting your Twitter Bio: https://blog.bufferapp.com/how-to-create-powerful-twitter-bio
2. Utilize Hashtags
One of the major keys to success on Twitter is using hashtags to extend the reach of tweets. Use hashtags before target keywords that describe your restaurant. Tweeting about your business, promotions, specials, great food & drinks is a good place to start. Also, using hashtags that are related to the general location of your restaurant can help you reach potential customers in the area. We recommend reading through this article that thoroughly explains using hashtags in the restaurant business: http://www.gourmetmarketing.net/using-hashtags-restaurant-social-media/
For #NationalTequilaDay we're serving you a Pinky Gonzalez made with Tequila Reposado, Dry Curacao, Lime, and Orgeat. pic.twitter.com/F84ypipfme

— •••— (@ThreeDotsCHI) July 24, 2015
3. Retweet, Retweet, Retweet
As you begin to build your following on Twitter, chances are, your followers will tweet about their experience at your restaurant! If the feedback is good, be sure to use Twitter's retweet tool to share these positive experiences with ALL of your followers! This will show the world that the experience at your restaurant is truly great.
@Margaritaville @MvilleCaribbean – Because #Landshark in #Negril is better in threes pic.twitter.com/QXRVLIuHfZ

— Capin (@capinalexander) April 21, 2015
4. Keep Your Profile Updated Consistently
Being successful on Twitter depends on interacting regularly. Don't post in "spurts." Try your best to build a schedule that ensures there is constant activity on your profile. Share relevant content, specials, & always use photography to your advantage. Create masterful food & drink presentations that will entice people to visit your page.
A great way to maintain a consistent Twitter approach involves learning how to schedule tweets in advance. This article from Hootsuite details ways you can achieve this: http://blog.hootsuite.com/how-to-schedule-tweets/
We hope that these tips will help you begin the process of building your restaurant's presence on the Twitter platform! Please be sure to share your suggestions in the comment area below!
{{cta('bcf67134-3b03-4028-b5b0-d3711bcd7337')}}