Whether you're planning to open a new bar or restaurant in the near future, or you've been in business for decades, brand awareness is key for ongoing success.
Here are 3 simple tips that can be used to kick-start your branding efforts in 2016!
1. Ensure The General Public Knows Your Bar or Restaurant Is Open & Ready To Serve
There are times when bars & restaurants fail simply because people had no idea that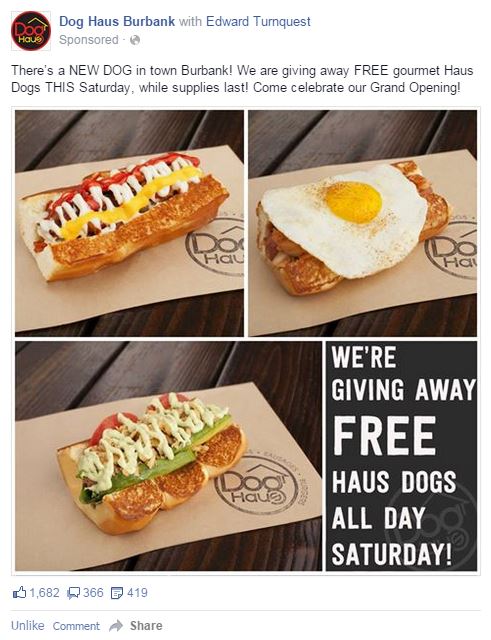 they existed in the first place. Advertising may not be the most exciting subject to talk about, but leveraging its value is critical for success.
Traffic on Facebook continues to grow & taking advantage of the various types of promotions they offer should be at top-of-mind for a business owner. You'll be able to target the exact audience & location that you're looking to attract. Facebook advertising is also quite a bargain.
In addition to promoting on Facebook & other relevant social media platforms, also be sure to mix in local radio, TV & website advertising. Of course you'll need to brag about your food & drinks – as well as what makes your atmosphere unique!
2. Use Inexpensive Promotional Products To Take Food & Drink Presentations To The Next Level
To make the most out of your advertising efforts, professional photography featuring
your incredible food & drinks will be crucial. Photos will be associated with virtually every form of advertising, so be sure to make the most of each one.
Each time a beverage or food item is served, there is a unique opportunity for branding. Consider implementing the following custom promotional products to maximize exposure:
As social media advertising continues to expand, the need for food & drink photos will only increase. Custom stirrers, picks & coasters make each presentation truly yours.
3. Get Involved With The Surrounding Community
Consider sponsoring local sports teams, festivals & events. This type of exposure lets community members know that your business is an active supporter in the area. This promotes the overall brand image.
Of course, be sure to look at sponsoring the activities/events that fit the target demographics for your business. It is also a good idea to include coupons & promotions in all sponsorship packages. This will entice community members to visit your establishment. Whether these are included in an event's program/pamphlet, or announced over an intercom, everyone loves a great promo!
{{cta('bcf67134-3b03-4028-b5b0-d3711bcd7337′,'justifycenter')}}