Whether your steakhouse has been in business for decades or is preparing for its grand opening, perfecting a branding strategy can be crucial to attracting and retaining customers.
Here are 3 quick tips that can help you establish an excellent steakhouse branding strategy.
1. Institute a consistent brand identity.
Your steakhouse's brand identity is comprised of the visual elements that work together to identify & distinguish your brand in consumer's minds. This includes your logo, fonts, colors, style, tone, verbiage, slogans, etc. All of these assets should compliment one another and be visible on all platforms that represent your steakhouse.
Use consistent & well-organized assets to craft a brand identity that accurately portrays the atmosphere of your establishment. Your brand identity represents who YOU are and differentiates your steakhouse from the competition.
Here are some of the key benefits of keeping your brand identity consistent.
Promoting business and customer loyalty
Differentiation from other steakhouses
Promoting originality
Social media credibility
Brand awareness
Keeping messaging on point
2. Utilizing custom steak markers & other branded items.
Using custom steak markers is a great way to add a branded touch to every plate that is served to your customers. Not only can steak markers communicate cooking conditions, they can also feature your steakhouse logo, symbol or slogan.

Custom steak markers are also valuable assets for social media and online marketing. Professional food photography and enticing social media followers and website visitors with mouthwatering images of your food are both extremely effective ways to attract customers. Adding a custom, branded steak marker to the meats shown in these photos will ensure that your meal presentations stand out from the competition.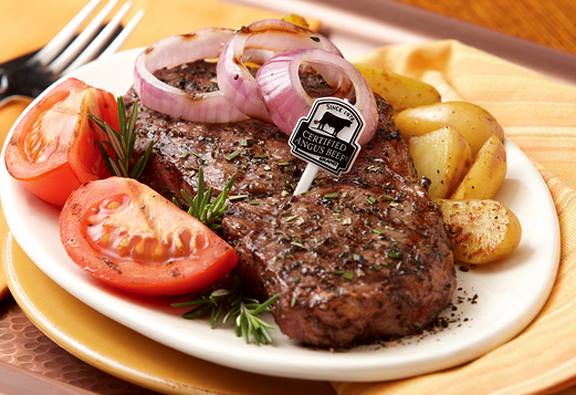 In addition to customized steak markers, personalized beverage stirrers, swizzle sticks, cocktail picks & coasters also add your steakhouse's signature to all food and drink presentations.
3. Match your steakhouse menu with your brand.
Your menu should be considered the primary sales tool of your steakhouse, so taking the time to match the design & verbiage to your brand image is extremely important. Your menu should express your eatery's personality & should create a lasting impression that will stay with customers long after their dining experience with you.
What does your menu offer that sets it apart from competitors in the area?
How does pricing compare to local competiton?
Does your menu promote maximum profitabilty?
For tips from the experts on creating the perfect menu for your steakhouse, we invite you to check out "Must Have Menus," an all-in-one menu service.
{{cta('22109336-bd58-43d0-adbf-a1c89e60afe4')}}