As Independence Day approaches, you may be searching for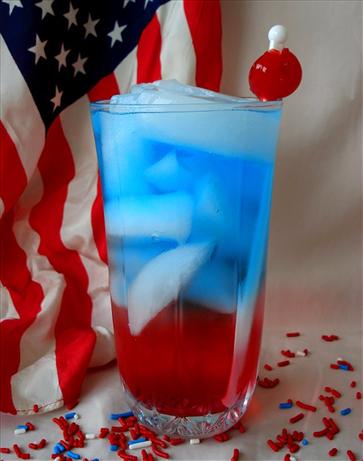 patriotic drink recipes to offer at your party, gathering, bar or restaurant! We came across a stellar article featured in the Latin Times that provides recipes for 10 mouthwatering, patriotic cocktails that we are excited to share with you!
We give major props to the author of this piece, Donovan Longo, and we're excited to share her Independence Day cocktail recipe ideas with you!
No matter which cocktails from this list you choose to mix up, be sure you're stirring with Royer swizzle sticks – proudly Made in the USA since 1977.
_________________________________________________________________
Frozen Freedom
Ingredients:
1 oz. Ungava Gin
1 oz. Campari Apertivo
3 oz. Sparkling lemonade
2 oz. Prosecco Liquid nitrogen*
Orange peel for garnish In an old-fashioned glass, add a small amount of liquid nitrogen. Add the remaining liquid ingredients and stir gently. Garnish with orange peel and serve.
*Available in specialty stores.
Yankee Doodle
Ingredients:
½ oz. Lucid Absinthe
1 oz. Sobieski Vodka
¼ oz. simple syrup
Splash of lemon juice
Drizzle of raspberry brandy
Ginger beer
Fresh blueberries and sugar cube for garnish
In a cocktail shaker, add fresh blueberries and simple syrup and muddle. Add Lucid Absinthe, Sobieski Vodka, lemon juice and shake. Strain into a highball glass and top with raspberry brandy and ginger beer. Garnish with fresh blueberries and a sugar cube and serve.
Stars and Stripes Shooter
Ingredients:
½ oz. grenadine
1 oz. blue curaçao
1 oz. Sobieski Vodka
In a shot glass, layer grenadine, blue curaçao, and Sobieski Vodka. For a video using a similar layering technique click here.
Liberty Libation
Ingredients:
1 ½ oz. CAMUS VSOP Elegance Cognac
1 oz. coriander-blueberry simple syrup*
1 oz. lemon Juice Dash Angostura Bitters
blueberries for garnish
Combine CAMUS VSOP Elegance Cognac, syrup, lemon juice and bitters with ice. Stir and garnish with blueberries.
*To make coriander-blueberry simple syrup, combine 2 cups of water, one tablespoon of crushed coriander seeds and a ½ cup of blueberries in a saucepan. Bring mixture to a boil and stir in one cup of sugar until it dissolves completely. Reduce heat to low and simmer until the volume is reduced by half. Remove from heat, strain liquid and let cool. Add liquid to a bottle and use as directed in recipe.
Rockets' Red Glare
Ingredients:
1 ½ oz. Trianon Blanco Tequila
1 ½ oz. cranberry juice
½ oz. orange liqueur
1 oz. lime juice
blue sugar and watermelon star for garnish
Add all ingredients into a blender with ice. Blend and pour into a blue sugar rimmed glass. Garnish with watermelon star and serve.
Silver Blueberry Lemon Collins
Ingredients:
1 ¼ oz. NOLET'S Silver Dry Gin
½ oz. Simple Syrup
4 oz. Lemonade
3 Blueberries
Add all ingredients to a mixing glass with ice. Gently tumble between mixing glass and tin. Pour directly into a Collins glass. Top with extra blueberries and a lemon wedge.
Silver Red Red Rose
Ingredients:
1 ¼ oz. NOLET'S Silver Dry Gin
¾ oz. Meyer Lemon Syrup
1 oz. Meyer Lemon Juice
Raspberries and Rosemary
Pour ingredients into a mixing glass with ice. Shake well. Strain into a coupe glass. Garnish with a fresh rosemary sprig and fresh raspberries.
Red, White and Blue Berries
Ingredients:
1½ oz. Herradura Silver
2 ½ oz. coconut water
¼ oz. agave nectar
½ oz. lime juice
Place all ingredients in to a cocktail shaker filled with cubed ice. Shake hard and strain over crushed ice in to a tall glass. Garnish with raspberries and blueberries..
Red Fireworks
Ingredients:
1 part Malibu Red
2 parts orange juice
1 splash of grenadine
1 orange wedge/zest
Pour Malibu and orange juice over ice in a highball glass. Add a splash of grenadine. Garnish with an orange wedge or zest.
Kahlúa Black & White Pops
Ingredients:
1 package of prepared instant vanilla pudding*
1 ounce Kahlúa
2 ounces Absolut Vodka
1 ounce Irish cream liqueur
*For Black Russian pops, use chocolate pudding, omit the Irish cream liqueur, and use 2 ounces of Kahlúa
Place all ingredients in a blender or food processor and process until smooth, about 1-2 minutes. Pour into a Popsicle mold (you can find these at any supermarket or variety store) and freeze for about an hour or until mixture starts to solidify enough to hold a popsicle stick upright. Insert popsicle sticks and finish freezing popsicles overnight. To release popsicles, run hot water on the outside of popsicle molds for 5-7 seconds. Makes 8-12 popsicles.
{{cta('bcf67134-3b03-4028-b5b0-d3711bcd7337')}}